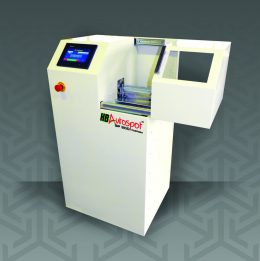 We are pleased to announce the launch of our latest automatic spot welding machine. The compact HB Autospot™ SP200 Custom which has a very small footprint of 650 X 550mm. This machine was developed to replace robotic spot welding by having 2 spotwelding guns working alternately and consequently has a faster production cycle and the space requirements being almost one quarter of a robotic cell.
The SP200 Custom (Servo Pneumatic 200mm max workpiece) is a customised machine to suit different applications controlled via PLC. Positioning, tip pressures and timer etc are fully adjustable by means of am HMI making the machine very user friendly.
Work programs are automatically seleted by means of sensors on the holding jigs minimising the risk of reject parts. Auto loading and unloading of parts and auto tip dressing is a recommended option for high volume production.